Trouble in Tinglewood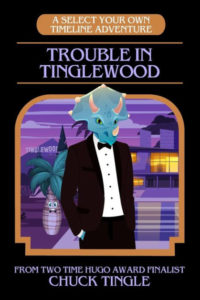 YOU become a starry-eyed newcomer to the City of Devils (not to be confused with Los Angeles), where you hope to make it big in show business. Or in television. Or maybe sculpture. You're not sure of the medium, but you'll figure that out as you go. You have a story in your heart, and you'll share it with the world and see your name in lights… maybe.
Meet a movie star. Become a famous artist. Become a grizzled barbarian film-maker roving the desert. Stop a serial killer. Be killed by a serial killer. The City of Devils is a big, crazy place and just about anything can happen in the Tingleverse.
Review and Opinion
Chuck Tingle – tae kwon do grand master, mystery man, and… the world's greatest author. His gonzo gay porn takes place in a goofy alternate universe where dinosaurs, bigfoots, unicorns, and sentient objects and concepts live right alongside humankind. In a world like that, in a city as large as the City of Devils (his version of Los Angeles) just about anything can happen.
This second Select Your Own Timeline has come a long way since the first one, Escape From the Billings Mall. Trouble in Tinglewood has about 50% more pages, a lot more links, and many more endings. It also features a lot more locations around the City of Devils: movie sets, brutal desert, suburbs, burger joints, motorcycles, …
The writing is fun, and I love Chuck Tingle's other work ("tinglers"). The Tingleverse is full of weird characters, situations, and settings ranging from slightly surreal to outright goofy. And the writing and the game system are not complicated, so it's suitable for when you're tired after work. And like the rest of the SYOT series, there's no pounding (if you don't know what that means, look up Chuck Tingle) so it's safe for all audiences.
Trouble in Tinglewood is a really fun time, and has brought me many evenings of enjoyment.
Errors
On 22 and 91 when you're coming down off your trip, the second option should be to accept help, but it says decline.
And it's chock full of Chuck's usual typos and auto-correct fails. But those aren't errors; they're intentional.
Maps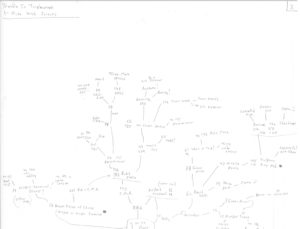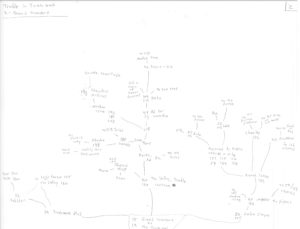 Publication
Written by Chuck Tingle
2020
Book 2 in the Select Your Own Timeline series
Other Players and Links

First published August 29, 2022. Last updated April 6, 2023.