Slaves of the Abyss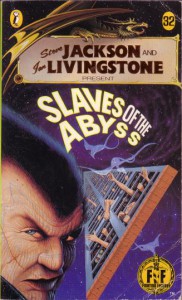 YOU become the hero of Kallamehr. Whole villages are being found desolate and abandoned, sometimes with signs of struggle but never any bodies or blood. The army is fighting off an invasion so it's on you to get to the bottom of this mystery.
Review and Opinion
Slaves of the Abyss is an epic quest which leaves little to be desired. An invasion leaving only desolate villages. A forest that could keep you trapped until you starve. Betrayal and murder, and a swashbuckling escapade through Castle Kallamehr. Old friends and strange partners. Then a trip into the Abyss itself for a boss fight… that you can avoid if you choose well.
The sheer scope of different subquests here, made this one truly epic in its scale. I also quite enjoy, that if you play it right you don't even need to fight very much. Granted it's Fighting Fantasy and not Negotiation Fantasy or Coward Fantasy, but a gauntlet of 11 and 12 critters is cheap and tiresome… and conspicuously absent from Slaves of the Abyss.
Despite being a rocking good time, Slaves of the Abyss is short of perfect in a few ways. The writing was a bit rough in some places, e.g. the abortive false choices at the start of the book, and the endings could have used some work (multiple happy endings of self-sacrifice).
Also, the book has a Time system that's supposed to keep you on your toes. But it doesn't quite work: the only time it matters is in the Abyss, where showing up early bypasses a fight. You'd have to really screw around to make it to those later timeslots, where you get ambushed or even Just Plain Fail by being too late. But after several plays, I still don't know what could happen to take up that much time.
Still, those are minor compared to the awesome here. This one goes into my short-list of favorites.
Maps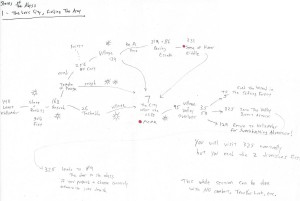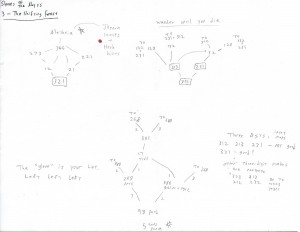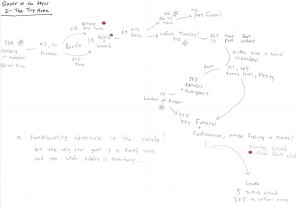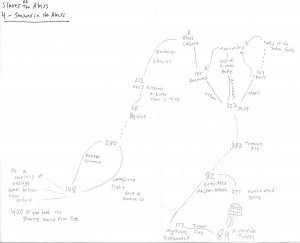 Publication
Written by Paul Mason & Steve Williams
Illustrated by Bob Harvey
1987
Book 32 in the series
Other Players and Links
First published January 20, 2016. Last updated May 19, 2023.