Portal of Evil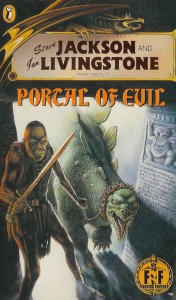 YOU become the hero of Kleinkastle, a frontier town in a gold boom. But those greedy dwarves dug too far and found more than gold, a portal to another world. The Portal bends and enslaves the people who cross into it, turning them into dinosaurs and zombies who overrun and terrorize the countryside. It's truly a Portal… of Evil!
Review and Opinion
Short and sweet, Portal of Evil kept me busy for two evenings. The first time through, I got to the Portal only to discover that I had no means to survive it and destroy it. Second time through, I stopped to talk to strangers and learned a lot. Third time through, I knew where to go and what to do, and made it. Huzzah!
The story is mostly straight lines: head into the woods and go east (the only way you can go), follow the river south (the only way you can go), follow the straight corridor of the jail ward. … Not very complex.
Not as awesome as Sword of the Samurai, but not as annoying as Deathtrap Dungeon. Still, it kept me happily amused for a few evenings.
Interestingly, the author of this one (Peter Darvill-Evans) also wrote Beneath Nightmare Castle. BNC is one of my favorites due to the writing and tentacles.
Maps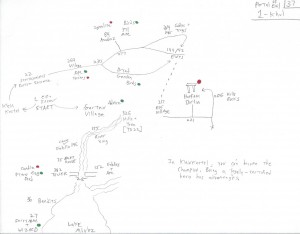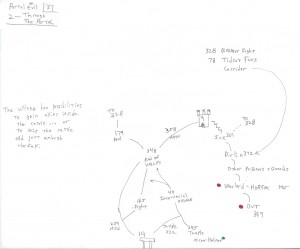 Publication
Written by Peter Darvill-Evans
Illustrated by Alan Langford
1989
Book 37 in the series
Other Players and Links
First published March 27, 2015. Last updated May 19, 2023.